News
News from Takiwasi in the context of this global health crisis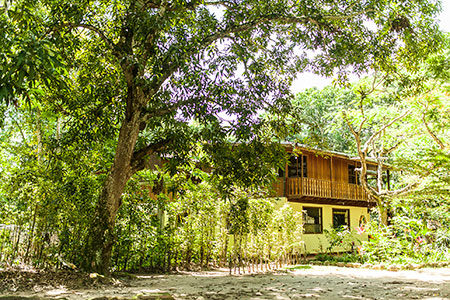 Dear friends,
In the middle of this global health crisis, many of you are asking us for news and it is not possible to respond to everyone personally.
The Peruvian government has declared complete lockdown from March 17 to April 12 (for now) with an additional curfew from 8 p.m. to 5 a.m. Takiwasi therefore operates at a slower pace, covering the basic activities to ensure care for our patients in residential treatment. We have suspended all our other activities. Eleven French-speaking persons who participated in a recent seminar are stranded at Los Huingos hotel and therefore are spending their post-dieta period on site. A Canadian patient on his way for residential treatment is stranded in a hotel in Lima. A local patient from Tarapoto who was about to start his treatment asked us to receive him immediately, he can no longer tolerate being locked up at home with his mother...
So it's a long, forced dieta for everyone.
Our patients can be considered privileged, having 2.5 hectares of confinement area with the chance of swimming in the river...
The city of Tarapoto is deserted but it also offers a nice silence never known before.
We are obviously very concerned for the continuation of Takiwasi's activities, especially the retreats/diets which allow us to finance the basic functioning of the Center. Since many of you have asked how to help us, we remind you that there are several ways of making donations as indicated on our website. Click here.
Online payment with a credit/debit card is the best option for donations that do not exceed 1000 Dollars. In the link you can also find Takiwasi's bank account details both in euros and dollars, if you were to consider making a bank transfer.
We wish to convey to you all our encouragement in the face of this shared adversity, hoping that the lessons learned at Takiwasi through plants will allow everyone to make the most of this "forced Lent" time and that this might be an opportunity for pursuing self-awareness and spiritual growth. Thank you in advance for your prayers, we carry all of you in ours.
It is worth noting that currently scientists are moving towards the use of chloroquine (nivaquine) for the treatment of coronavirus. This substance comes from the quinine tree, which is the symbol of Peru, it appears on its national coat of arms and comes from the empirical knowledge of traditional Peruvian medicines. The bark of this Peruvian tree has already saved the Conquistadors from malaria. Will it save us once again? One more reason to be grateful to the Peruvian indigenous peoples and their ancestral knowledge.
Kind regards,
Jacques Mabit